Jackpocket is a mobile lottery app that purchases official lottery tickets on behalf of players who value the convenience of playing from home or on the go.
For players who would rather skip the trip to a retailer, Jackpocket offers a legal way to purchase tickets from state lotteries around the country. In states where Jackpocket operates, customers can log in to the mobile app to buy lottery tickets online, check for winners, and claim their prizes.
The Jackpocket mobile app differs from other services of its kind in one key respect: Jackpocket.com works closely with state regulators and only sells lottery tickets with the approval of lottery operators in each state. Currently, Jackpocket provides legal online lottery tickets in the following states:
Arkansas
Colorado
Minnesota
Montana
New Hampshire
New Jersey
New Mexico
New York
Ohio
Oregon
Texas
Washington, DC
Jackpocket representatives have confirmed the service will be expanding its geographic reach significantly over the next year, so check back soon for the latest updates. In the meantime, lottery players around the country can download the Jackpocket app and sign up for an account to receive notice when Jackpocket comes to their neck of the woods.
If the idea sounds appealing, read on for a full Jackpocket review. Below, we explain how it works, where it's legal, and everything else players need to know before getting started.
Is Jackpocket Legal?
Yes. Jackpocket is headquartered in New York and only offers its services in states where it has the permission of local regulators.
For example, the New Jersey Lottery lists Jackpocket as a registered courier service at the bottom of this page. The NY lottery provides a similar confirmation on its FAQ page here, and the Colorado Lottery does as well here. Players can find similar confirmations for other states, but the overarching point here is that Jackpocket is fully legal.
To be technically correct, the Jackpocket mobile app does not sell lottery tickets. It is a courier service that purchases lottery tickets from authorized retailers on behalf of customers who would rather save the trip.
In summary, Jackpocket adheres to all state and federal laws. The Jackpocket app is legal, licensed, and safe.
Jackpocket Bonus and Promotions
Jackpocket.com offers welcome bonuses and other promotions on occasion, but it is not a promotion-heavy service. When Jackpocket does offer bonuses, they tend to be on the smaller side. Jackpocket's primary selling point is convenience.
Currently, Jackpocket offers a welcome offer of $3 off your first lottery order. If you visit Jackpocket.com and enter your phone number to receive a link for the official lottery app, you'll receive $3 off your first purchase.
Visit Jackpocket.com to get the official mobile app and claim your bonus: www.jackpocket.com
How Jackpocket Works
Jackpocket is a lottery courier service that purchases lottery tickets on behalf of customers, notifies them of wins, and pays smaller wins directly to players' accounts. For larger wins, Jackpocket arranges delivery of the physical ticket so players can claim their prizes from the state lottery.
A Typical Jackpocket Transaction Explained
During a typical transaction, the user logs in to the Jackpocket app and places an order for lottery tickets.
Jackpocket then fulfills the order with a licensed retailer and sends a confirmation e-mail to the customer with the ticket's serial number. Jackpocket also scans and uploads an image of the physical ticket for the customer to view and then stores the ticket in a fireproof vault.
If any of the customer's tickets are winners, Jackpocket will notify the customer and automatically credit smaller wins to their account. From there, the customer may initiate a withdrawal or use the winnings to purchase additional tickets.
The definition of "smaller wins" varies by state, but in most cases, Jackpocket can automatically credit wins under $600 to customers' accounts. For wins larger than that, Jackpocket will contact the customer to securely transfer the physical ticket (more on that later).
Jackpocket Fees and Costs
Jackpocket does charge a fee for its service, but it is a flat fee that Jackpocket discloses upfront before customers confirm their purchases.
Jackpocket does not ever take a cut of customers' winnings. Customers always keep 100% of their winnings, whether they are small wins or once-in-a-lifetime jackpots.
Lottery Ticket Availability
Jackpocket only sells lottery tickets from the official state lottery where each customer is physically located.
Federal law prohibits the selling of lottery tickets across state lines. Customers in TX may only purchase Texas Lottery tickets, customers in Colorado may only buy CO Lottery tickets, and so on.
Note that state residency is not required. Customers may use the Jackpocket app to purchase official lottery tickets whenever they are physically present in a state supported by Jackpocket.
Supported Games
Jackpocket sells tickets to most draw games in states where it is authorized to operate. In most states, this includes the big multistate games such as Powerball and Mega Millions plus each state's unique state-level games.
How Jackpocket Pays Winnings to Customers
How Jackpocket transfers winnings to customers depends on the size of the win.
In most states, Jackpocket can transfer wins under $600 directly to customers' accounts. The cutoff varies by state as follows:
Arkansas: $500
California: $599
Colorado: $599
Minnesota: $599
Montana (?)
New Jersey: $599.50
New Hampshire: $599
New Mexico: $600

New York: $600

Ohio: $599
Texas: $599
Washington DC: $600
For wins that exceed the above thresholds, Jackpocket contacts the winner to securely transfer the physical lottery ticket to the customer so he or she may claim their winnings from the state lottery via normal means.
A Jackpocket FAQ page explains:
The means by which the physical ticket is transferred may vary based on location, value of the ticket, and requests of the customer and will be discussed with the customer ahead of time.
Jackpocket Mobile App
The Jackpocket mobile app is available for iOS and Android devices in all 50 states plus the District of Columbia.
The easiest way to get started on any device is to visit Jackpocket.com and enter your mobile phone number to receive a direct download link for the latest version of the app.
iOS users may also search for Jackpocket by name in the App Store to get started, but Android users must visit Jackpocket.com for a direct download. In both cases, the Jackpocket app is a fast download, and users will have little trouble getting started.
From a usability standpoint, the Jackpocket app performs well. After logging in, customers will find the app easy to navigate due to clearly labeled menu items and pop-up tips that guide users through the app's various features.
The app walks customers through every purchase, which involves selecting a game, their numbers, number of entries, and number of drawings to play. Customers can also use the app to view current jackpots, winning numbers, enter public pools, and create private pools. Overall, the Jackpocket app is a useful lottery tool even for players in states that do not yet offer online ticket purchases.
Jackpocket Screenshots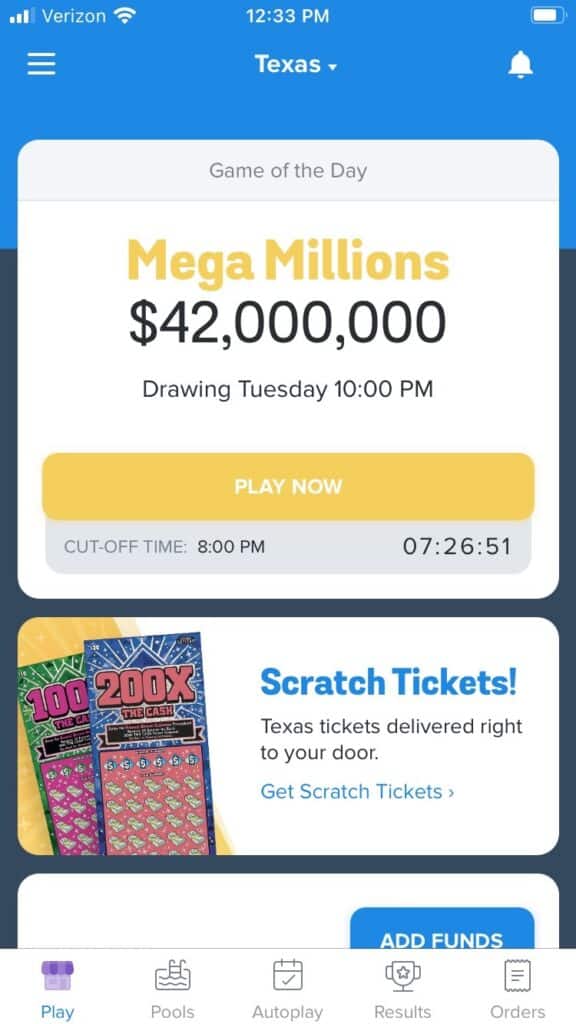 Jackpocket Deposit Methods and Payouts
Lottery players can fund their deposit methods through various methods, but availability varies from one state to the next. In most states, customers can fund their accounts with all or most of these methods:
PayPal: Personal accounts only, linked to a confirmed checking account
Secure bank login: Choose an amount to deposit and authorize the transfer by logging in with your bank's online banking username and password – only works with certain banks
E-Check: If the above method doesn't work, players can select e-check to input their checking account and routing numbers to authorize an electronic funds transfer
Debit cards: Visa, Mastercard, and Discover (availability varies by state)
Credit cards: Visa, Mastercard, and Discover (availability varies by state)
Play+: Secure online wallet and prepaid debit card that players can fund with Mastercard, Discover, and Visa in some states
Apple Pay: Use your Apple Pay account to fund your Jackpocket account
Jackpocket FAQs
Wes Burns is a co-founder of USLottery.com, bringing his nearly 15 years of expertise in the gambling industry as an author, researcher, journalist, and analyst to the US lottery market.